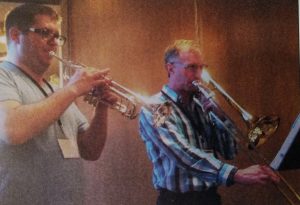 The following article appeared in St. Andrew's College Contact, Volume 26, Number 2, Spring 2017:
The halls of the college rang with singing, drums, hand bells, piano, flutes, accordion, and brass instruments on Saturday, May 6, as St. Andrew's hosted the annual Music Matters conference of the United Church.
Participants from Nova Scotia to British Columbia joined a local crowd at plenary sessions and workshops devoted to helping United Church congregations sing. The evening featured a public hymn festival in the chapel where all of the hymns, taken from Voices United and More Voices, had a Saskatchewan connection.
The event formed the educational component of the annual meeting of Music United, an association that exists for the mutual encouragement and support of those who provide musical leadership at all levels of United Church worship. The group receives very modest funding from the national church.
The group chose its meeting date to coincide with the Saskatoon Theological Union convocation so attendees could provide musical leadership at the convocation service at Knox United Church. Along with offering an ensemble of talented instrumental and vocal musicians to accompany the hymns, Music United organized a pick-up choir to sing the anthem.
On Sunday, Music Matters participants joined the worship service at St. Paul's United Church, Saskatoon.