On Sunday, September 19, Patricia Wright was covenanted as Metropolitan's Congregational Designated Minister of Music (and the United Church of Canada's first CDM in Music) during the morning worship service.
Dr. Wright has been the Director of Music and Organist since September of 1986. In 2009, after over 20 years of work by the United Church of Canada Association of Musicians (now Music United) and various national committees, the national United Church recognized the possibility of musicians becoming lay ministers. The Designated Lay Ministry stream (for which musicians also are eligible) is the presbytery-accountable stream, while Congregational Designated Ministers in various disciplines are accountable to the individual congregations.
Dr. Wright's process began with formal requests to Metropolitan's Worship Committee, Ministry and Personnel Committee, and the Official Board which all were met with enthusiastic support.
The Board commissioned a Discernment Committee of Jeff Laitar (chair of the Music Committee), Linn Holness (chair of the Worship Committee), Toba Bryant, and the Rev. Nancy Hardy. This committee met with Patricia for three evenings and discussed the role of music in the congregation, spiritual gifts, and relationships within and beyond Metropolitan.
The Presbytery process included an application and interview with the Toronto Southeast Presbytery Education and Students Committee. The job description was approved by the Pastoral Relations Committee of Toronto South-east Presbytery, and Metropolitan's Worship Committee planned the covenanting service for September 19.
The Rev. Dr. Betty Lynn Schwab, the National Coordinator of Worship and Music, was present and described the new ministry designation. Members of the Discernment Committee participated in prayers and readings. As part of the brief covenanting section, all the paid and volunteer music leaders (Sarah Svendsen, Organ Scholar; Gerald Martindale, Carillonneur; Benjamin Stein, Great Heart ensemble director; Margaret Metcalfe, Metropolitan Handbells director; and Fran Harvey, Metropolitan Silver Band director) were included in a prayer.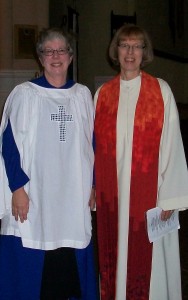 Dr. Patricia Wright, first Congregational Designated Minister of Music in the United Church of Canada, with the Rev. Dr. Betty Lynn Schwab, National Coordinator of Worship and Music after the Covenanting Service at Metropolitan United in Toronto on September 19, 2010.
________________________________________________________________________________________________
COVENANTING OF THE CONGREGATIONAL DESIGNATED MINISTER OF MUSIC
Metropolitan United Church, Sunday, September 19, 2010
(after the Sermon)
ANTHEM "With pipes of tin" words by Thomas Troeger, music by Alfred Fedak
INTRODUCTION TO THE NEW "MINISTRY OF MUSIC" POSITION – the Rev. Dr. Betty Lynn Schwab
PRESENTING DR. PATRICIA WRIGHT, D.M.A., F.R.C.C.O. – Jeffrey Laitar, Chair of the Music Committee
THE COVENANTING OF THE MINISTER OF MUSIC – the Rev. Dr. G. Malcolm Sinclair
(Dr. Sinclair) Today in response to the call of Metropolitan United Church, we create a new designation called the Minister of Music. The Toronto South East Presbytery has interviewed Dr. Patricia Wright and has enthusiastically supported our choosing her.
Patricia you have given us exceptional leadership for nearly a quarter of a century. We thrive because of you. Will you now lead us anew as our Minister of Music, in Christ's name and to the glory of God?"
(Dr. Wright) I will, God being my helper.
(Dr. Sinclair) Members and friends of our congregation, will you welcome Dr. Patricia Wright in her designation and support her in her new ministry?
(All) We will.
BLESSING OF THE MUSIC MINISTRY STAFF – the Rev. Dr. John Joseph Mastandrea
(Dr. Mastandrea) All our music leaders are richly gifted. We are most fortunate to live and worship among such talented and dedicated people. I now ask these leaders to come forward, Fran Harvey, Conductor of the Metropolitan Silver Band, Sarah Svendsen, Organ Scholar and Director of the Metropolitan "Sparklers", Gerald Martindale, Carilloneur, Benjamin Stein, Leader of the "Great Heart Ensemble", and Margaret Metcalfe, Director of the Handbell Choir.
Thank you for empowering our song. You move us deeply. We ask God's blessing upon you in this new season of grace. O God, both singer and Song are yours. Inspire us to embrace the heavenly music that the earth may be blessed and your sacred work be done. Amen.
HYMN – Hymn for Discernment – written for this occasion by Patricia Orr (text) and Dr. William Wright (music)
Teach us the anthem of the soul, a rising hymn of praise, a haunting word, a mighty chord.
Lift high our sacred song, O Lord. Alleluia!
Teach us the anthem of the heart, a tender hymn of love, that we may hold a world in pain,
give comfort, offer hope again. Alleluia!
Teach us the anthem of the saints, a gentle hymn of peace to calm the fractious quarrelling bands,
the desperate night when love demands Alleluia!
Teach us a silent anthem, Lord, as deep as holy breath. Release the bonds of human care,
the captive sigh, the prison prayer. Alleluia!
Teach us the anthem of the Light,a glorious hymn of joy,till all creation shouts as one,
'The dawn is ours, the darkness done!' Alleluia!
©Patricia Orr, William Wright
_______________________________________________________________________________________________
PATRICIA WRIGHT
DISCERNMENT COMMITTEE DISCUSSION (over three evenings)
The Role of Music
In this session we will explore the role of music in our spiritual lives. We will reflect on its role in the context of ourselves, our congregation and the church more broadly. We will start with some personal reflection about music in our own spiritual lives.
Question 1
Think of several instances that illustrate the role of music in your spiritual life. In your examples, include one in the context of worship.
Music has many roles in worship. Paul Westermeyer, in his book, "The Heart of the Matter", has identified five roles: praise, prayer, proclamation, story and gift. We will reflect on these roles from both a personal perspective and from the perspective of the congregation.
Question 2
Using Westermeyer's framework, do all resonate with you as you experience worship? Is there one that is particularly important to you? In the context of worship at Metropolitan, do you think all roles are reflected? Should any be changed?
Music may have other roles in church life. We will consider what other roles music might play, both from the individual perspective and the congregational perspective.
Question 3
What other roles of music do you see at Met? What impact do these have on you personally and on the congregation generally? Is there an area you would like to explore more?
Note to group:
We should probably explore the role of the musician leader – we could include in this session or possibly in the relationships session.
MUSIC AND SPIRITUALITY
1. What do we mean by spirituality?
2. How do Dr. Wright, the choir and other musicians nurture music and worship at Metropolitan United Church?
3. How do the ministers, Board, congregation, other volunteers support music and worship, and musicians at Metropolitan?
RELATIONSHIPS OF MINISTER OF MUSIC
1. What are the relationships that Dr. Wright experiences within Metropolitan and how do they help to form her ministry?
2. How do her relationships outside of Metropolitan contribute to Dr. Wright's ministry?
3. Is an ongoing relationship with God necessary for someone to become a Congregational Designated Minister of Music?