Fred Kaan, one of the most gifted hymn writers of the 20th-21st centuries, died on Oct 4th age 80, ravaged by cancer and robbed of intellect by Alzheimer's. He was a gifted poet and dear friend. His hymns are in most denominational hymnals published since 1980.
I [include] a tribute to Fred…. It weaves together some of the words he gave us to sing….
Peace and Hope!
Brian Wren
---
---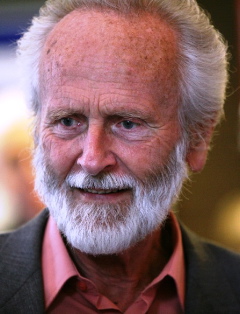 Dear Fred,
You grew and tended a spacious garden of hymns, with many fine perennials. I'll pick a quick bouquet.
Dear Fred, dear friend,
Thanks to you we pray –
"for the healing of the nations,
for a just and equal sharing
of the things that earth affords,"
and long "to sing Magnificat
in crowded street and council flat."
We "put peace into each other's hands,
and "give thanks for strong yet tender hands,
held out in trust and blessing."
We have words to lament
"the skills that are used for destruction,"
and unforgettably affirm that,
"There can be no thanks without giving,
no words without deeds that are done."
Thanks to you –
"We cry from the fright of our daily scene
for strength to say " No" to all that is mean:
to think and make peace with each heart-beat and breath,
choose Christ before Caesar and life before death!"
Thanks to you –
We shall always dream of church as "a table that is round
that has no sides or corners,
no first or last, no honours,"
and promise not to break "the circle of enabling love,
where people grow, forgiven and forgiving."
We can sing how "God, who calls the earth to order,
is the ground of what we are."
We see "the Word in human form;
love through every barrier breaking,
love as basis, end and norm."
We meet Christ, "the gardener, a tree on his back,"
and we hazardously ask the Spirit
"to uproot us and teach us
the art of sharing all we are and have."
Thanks to you we can "rise to leave the shell of worship,
called to the risk of unprotected living,
ready and wise to use the unexpected."
Thanks to you we can rejoice
that "Jesus calls us in and sends us out
bearing fruit in a world of doubt,"
as we "pass the Word around: Loaves abound!"
And thanks to you,
we honour "all who come and came" – not least including you –
"to teach the world the craft of hopeful craving."
Dear Fred, dear friend,
Somewhere in the middle of your life you wrote:
"Today I live, but once shall come my death.
One day shall still my laughter and my crying."
Thanks to you, we can join you in saying:
"When earthly life shall close, as close it must,
let me without regret recall the past,
then, Lord, into your hands commit my spirit."
and –
"Meanwhile I live and move and I am glad,
enjoy this life and all its interweaving.
Each given day, as I take up the thread,
let love suggest my mode, my mood of living."
Thank you, dear Fred.
Thank you for you.
Thank God for you.
With love –
Your colleague, student and friend
Brian Wren
P.S. –And thanks to you –
I"ll never "sing with bated Christmas voice
as if events in Bethlehem were nice!"